The Best Places to Work Roadmap Part 5 of 5: Working Life Atmosphere and Balance
Written by: Ralph Twombly
Published: March 2010
In February we looked at Individual Opportunity Creation in the featured article of our monthly newsletter. If you didn't get a chance to look at that installment, we have a link to connect you here; http://aprioritylearning.com/articles/bptw_4.php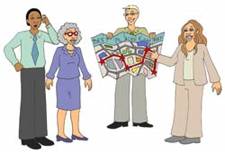 This month (March) we bring you to part five of the five-part series introducing you to the things learned from The Best Places to Work surveys. This Best Places to Work format is used by various States and private survey companies and administered to participating businesses each year.
The winners of these awards each year are celebrated, published and benefit from the honor they receive in many ways, including employee pride and morale, increased profitability and higher recognition.
Our work with some of these companies and the research we have conducted over the years brought us to the conclusion that if you wanted to be one of the "Best Places", you can! You can do some work in your organization that will transform it into one of these preferred places. To catch you up, these were the five categories we identified:
Work/Life Atmosphere
Hostility Free - I'm not sure why exactly but a lot has changed in the 35 or so years I have been in and around the American workplace. Long ago a forgotten supervisor told me that "it is good to keep employees off balance and angry so they will work harder for you." Sounds a little strange in 2010 but for some reason it isn't too hard for you to visualize the idea in the work environment of 1975. Sometimes it seemed that if we didn't keep people busy enough with our agenda (productive stuff), their agenda (sometimes gossip) ruled the day.
In the absence of finding good and important stuff to work on, most of our forefathers thought that making employees angry was a good substitute. Clearly, the forefathers lacked some basic skills that leaders in the best companies have today. If you look at the list of "Best Places to Work", you will find hostility free at the top of most of their wish lists. If I knew then, what I know now, I might have simply said to my forefathers, "Let's create a participative process and get them engaged in the work." I bet they would have laughed or, more accurately, not listened at all. It might have been an interesting experiment.
Here is what we know; people hate conflict, people avoid conflict, and people will leave conflicted environments if exposed to them for any prolonged periods of time. On the other hand, we also know that a certain tension is required for a good creative/productive environment. In many employees views tension and conflict feel like the same thing. So how do these companies do it?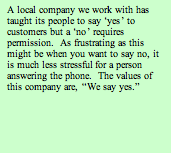 Some ideas:
Do your values work because the employees may feel conflicted if the organization's value are inconsistent. When leaders and employees personally share the same values that your company embraces, your heartbeat slows a little and your confidence to choose the right path becomes a little clearer. The best companies identify what their values are and hire people with similar values. Returning to the values and identifying how you live those values reinforces how employees align with the people they work for and makes the hard choices easier.
Personality work because many times the people around us are our greatest source of distress. If the person you sit next to or stand behind gives you the "willies" because of their elevated level of weirdness, you may dread coming to work each day. Weirdness may not be a condition, but a personality quirk or simply a difference in the way they approach life. Teach people about the fundamental difference in each other's personalities and quickly it become an issue of different style. In our work with the Myer-Briggs Type Indicator® over the years we have learned that the largest benefit gained by many is the understanding of how others work and why they do the things they do. That is different from thinking that others are simply trying to make you crazy. It works and companies seem to want to keep educating long after they begin working with personality.
Simply say it to tell the workforce you don't want them to be distressed and listen to their feedback. You might find the answers in the titles above.
Get the message to your company to lower the distress in the workforce and here is an easy formula;
Get together with your people and identify the values of the organization
Make sure that people have a voice in those choices
Live those values organizationally from what you do with people to how you impact your community
Return from time to time to keep score with how you have made choices that reflect those values with customers, employees and in your community.
The workforce will get involved, you will have a consistent decision-making strategy, and you will see people smile while holding each other accountable. While you are thinking about it, hire new folks who fit your values.
Balancing career and family because with the influx of women into the workplace and the value shifts of two working parents, balance has never been more important. There are so many good ideas out there about creating balance and it is staggering. This one seems to have caught on because people have learned that we can have "it all." In a recent published article, Milly Welsh, our tech person at Priority Learning, gives some of the best advice for individuals that I have seen. As an individual in a working environment it is worth a read. http://aprioritylearning.com/articles/growing_family_business.php
From a business perspective here are my final thoughts...
Let people know you want them to balance their lives. Our fathers worked themselves to death and sometimes I think it is the only model we learned. If you tell people you want them for years to come and not just through the next important project, you will show them you value them and get better and more thoughtful people.
Provide a flexible schedule when you ca. More and more people are working from home and at least doing some of the things needed from home after they have given care to family.
Give people the tools to get organized. Insist that people use those tools so they can get out to their families.
Appreciation! By now I am firmly on the record as someone who feels that appreciation is at the heart of many good things in life. Regardless of what we are paid, appreciation is critical to our success, esteem and ability to interact effectively with others. No one likes a person too full of themselves and we can mistake confidence and ego. Are you ready for the truth? We all need to be appreciated by our employers, colleagues, subordinates and families. Additionally, we need respect, admiration and consideration as core elements in our lives.
I can just hear people reading this and saying to themselves; "Not me, just pay me, leave me to hell alone and I will be fine." The image of the "lone wolf"' surviving and thriving in an environment devoid of feedback is the stuff of myth. Having spent too many years of my life locked in the image of the original "lone wolf" I can tell you it doesn't work like that. Whining and being needy is not my thing but I am less than half as good without solid feedback and appreciation from those who care about me and the work we all do at Priority Learning. Do I need it? Of course, I don't need it. I only know my world works better with it and my life is continually enriched by the people who care enough to tell me about my impact on them. Appreciation my not be essential to surviving to see tomorrow but the enrichment it provides is the difference from working and loving to work.
In the workplace appreciation is absent for a variety of reasons. Sometimes we don't give credit because we don't know how. Many times we don't like to receive praise so we jump to the conclusion that praise is not good and, finally, many people simply don't know how to give credit without gushing, hugging and blushing. So the place to begin is in understanding the need and then understanding the way to deliver appreciation.
For more ideas on appreciation take a look at an article that Craig from Priority Learning wrote in November of 2009 and it will give you ideas. http://aprioritylearning.com/articles/art_of_appreciation_november_2009.php
Maybe a fitting way to end this series of "Best Places to Work" is with a thought about hope and change. Business and our personal lives float in a sea of hope. If you want to be a preferred employer, you can. If you want to work in preferred environment, you can. If you want to make the changes necessary, you can.
Remember, change is both transactional and transformational, meaning that you cannot simply put a free coffee machine in the lobby and expect people to start smiling. Sit down with other leaders and your people and discuss your desires as a company. Listen, build something long term in vision but short term is execution and you will have begun. The fun is in the journey, not the destination. Remember these five categories as you begin your journey.
Determine, Define and Build Strong Organizational Values and the Leadership That Models Those Values (featured in November 2009)
Get Things Done via Communications and Inclusion (featured in December 2009)
Exercise Leadership Through People, Listening and Success (January 2010)
Create Individual Opportunity for Your People (February 2010)
Build a Great Working Life Atmosphere and Balance for Your People(March 2010)
As always, we are here, so let us know how we can help. Have a great March and I will be back in April,

Ralph Twombly
In the 20 years since starting Priority Learning, Ralph has facilitated countless learning experiences and has conducted training for thousands of managers and leaders. With over 30 years of leadership development and organizational development background and work, Ralph continues to build relationships with client companies all over the U.S.